The first thing traders need to do before placing a trade based on supply and demand is to decide whether the environment is expected to stay the same or to rapidly change. This can be assessed by market volatility measures such as significant political strife or economic news. This is the dichotomy between the decision to trade for a range or trade for a breakout.
Trading the Range
When trading a range, traders are anticipating the environment to stay about the same; with support or resistance standing its ground allowing for traders to 'buy low,' and 'sell high'. The chart below illustrates how a trader can use price alone to identify those points in the market at which demand begins to outstrip supply (creating increased prices) or supply begins to overrun demand (creating decreased prices).
Trading the range with a GBP/USD chart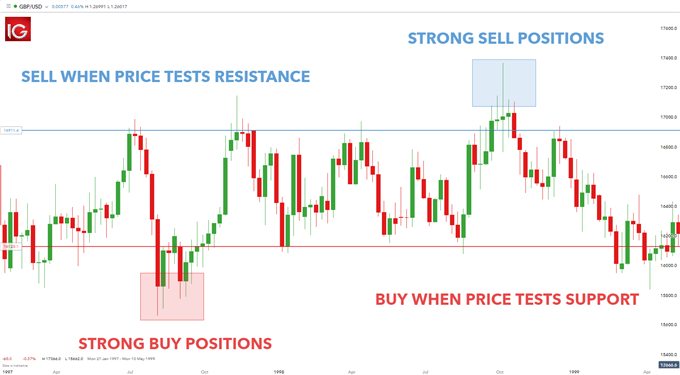 Trading the Breakout
The other side of the coin is the trader that is expecting the environment to change, with breaks of support or resistance to create new highs or new lows.
With this style, the trader's objective changes from the range-bound condition. The goal is now to 'buy high, and sell back at a higher price,' or to 'sell low and buy back to cover at a lower price.'
Trading the breakout with a EUR/USD chart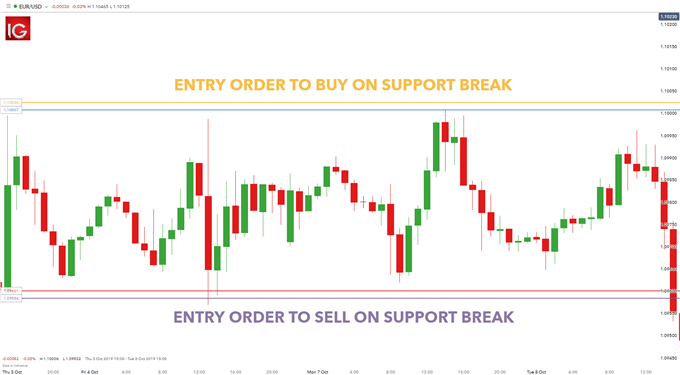 Since these environments can be considerably more chaotic than what might be expected in 'ranging' markets, traders are usually best served by altering the risk management condition to account for the increased risk of trading in a rapid market. For more information, read our guide to forex risk management techniques.