Every worker, whether skilled or unskilled, may apply to SOS Labour for job placement abroad. However, SOS Labour prefers for its applicants to have life skills and work ethic training to prepare them for success in their jobs. Workers who wish to be better prepared for the strict work ethics of work overseas may take advantage of the training offered by the Prosperity and Integrity Colleges of The Channels of Blessings Global Ministry (COBGM).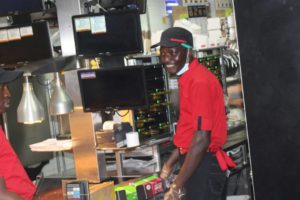 SOS Labour maintains a labour pool of the physical and computer files of its applicants, which includes extensive documentation. As SOS Labour receives applications, it tries to match the applicants skills with jobs currently available, or places the applicants information in the database until their skills match an available job. Skills sets of SOS Labour's pool of workers goes across the board, including welders, pipefitters, instrument technicians, heavy duty equipment mechanics, heavy duty equipment operators, ironworkers-reinforcing/structural, plumbers, construction workers, crane operators, hospitality workers, food counter/service attendants and general labourers. All of SOS Labour's applicants are English speaking, though French speaking workers can be recruited from neighboring countries.
The application process involves the worker submitting an application to SOS Labour, and documentation proving identity, educational background and work experience. Workers who take advantage of the training at COBGM will have the advantage of getting assistance in assembling required documentation, and SOS Labour will have the confidence that their documents have been thoroughly vetted for genuineness. SOS Labour accepts only genuine applicants with genuine documents. SOS Labour vets each applicant based on their education and experience, and tries to locate a job overseas that fits the applicant's skills, working directly with the overseas employer to ensure proper placement.
Applicants are assisted by SOS Labour to submit the necessary documentation to prospective employers overseas, and to go through an interview with the employer. Applicants who are offered positions by overseas employers are assisted by SOS Labour to submit required documentation in order to meet the labour and immigration requirements of that country. SOS Labour also assists applicants in making their travel arrangements once they are successful in obtaining a work visa.
SOS Labour does not charge any fees for its job placement services to the workers for the Temporary Foreign Worker Program in Canada. SOS Labour negotiates with the overseas employers to take a fee from them for the services it renders them in recruiting the workers.
For job placement in countries other than Canada, SOS does charge a placement fee based on the fees applicable for job placement in that country, and fees may vary from country to country.
Workers seeking overseas jobs through SOS Labour should contact SOS Labour through this website or call 021-921463 or 022-304343 for further information.
For those interested in the Channels of Blessings Global Ministry training program, please contact them through their website at: www.channelsofblessings.org, or email globalworkers2009@yahoo.com.
Where to find job vacancies in Norway?
Tips for foreign job seekers.
The majority of vacancies in Norway are listed on the Internet.
On Arbeidsplassen you can search for jobs, register your CV and record permanent jobs searches. The service is only in Norwegian. On arbeidsplassen.no you will also find the country's most complete overview of vacant positions (Norwegian).This is constantly being updated with new jobs.
You can also search in various languages for jobs in Norway at http://eures.europa.eu
Many Norwegian companies have their own websites, and these sometimes advertise vacancies not featured anywhere else. Use the Norwegian on-line Yellow Pages to find addresses: www.gulesider.no
Most jobs are also listed on www.finn.no/jobb
You can also look for jobs in Norway on the website of the employment services in your home country.
Private recruitment agencies
Foreign job seekers have the option of signing up with private recruitment agencies. The recruitment agencies often specialises in particular industries and professions. The agencies are listed in the Yellow Pages on the Internet: www.gulesider.no (search for "rekruttering" or "vikartjenester").
General job applications
Norway also has an informal market for job vacancies, i.e. vacancies that are not registered with any organisation or otherwise advertised. To pick up on these vacancies, one way is to send out general job applications to any company of interest. You should also make a follow-up call to the company after you have sent your application. If you want to send a general job application to selected companies. Remember to bring your CV, in Norwegian or English, with references and diplomas, etc.
APPLICANTS can consider the following as well;
a] https://gulfjobmag.com – We provide better jobs !
b] https://vacancyingulf.com – GLOBAL ABROAD JOBS
c] https://booksev.com/category/jobs-in-canada – better your career
d] https://www.gulfjobcareers.com – better jobs in the gulf
e] https://jobbankcanada.us – Please Register your Details to Get jobs
f] https://ibuzzup.com -securing Canadian jobs
g] https://ca.jooble.org More than 136000 current vacancies from 7960 sites available to you. Find your new job today.
h] https://www.laowaicareer.com LaowaiCareer is the leading platform for international talent searching professional jobs in China.
Looking for a full or part time job, internship or a freelance project to work on? We'll help you find it.
i] https://housekeeper.com Housekeeping Jobs > Canada > British Columbia > Ashcroft
j] CANADIAN VISA LOTTERY: Applicants who might be interested in migrating to Canada can do so by applying for a Canadian visa here: http://www.cic.gc.ca/english/immigrate/apply.asp. Permanent workers; http://www.immigration-quebec.gouv.qc.ca/en/immigrate-settle/permanent-workers/index.html.
h] https://www.backpackerjobboard.com.au Backpacker Job Board is a job site in Australia for working holiday makers
i] https://www.farmboy.ca/about-us/careers All of our current career opportunities can be found on our website.
j] https://allstarjobs.ca is the go-to destination for jobseekers since 1999, with thousands of job listings for all ages and skillsets, including newcomers, vulnerable youth, indigenous persons, and persons with disabilities.
k] https://www.randstad.ca/jobs/q-general-labourer We will keep you updated when we have similar job postings.
l] https://jobs.smartrecruiters.com SmartRecruiters for Job Seekers
m] https://www.teachapax.com Apply Today & Start Teaching in Vietnam!
n] https://www.eslcafe.com/job-center Biggest ESL Company in Vietnam Now Hiring!
o] https://korajobs.com Kora Jobs is the Best website to find Jobs in Dubai, Abu Dhabi and other cities in UAE.
p] http://www.openbookteachers.com teach abroad jobs
q] https://gointernational.ca WORK, TRAVEL & VOLUNTEER AROUND THE WORLD WITH GO INTERNATIONAL!
r] https://www.stepwest.com We offer internships, working holidays, and college programs in Canada.
s] https://www.recruit.net Find a job near you and start your new career
u] https://www.shine.com for job seekers
v] https://www.adzuna.co.nz Find jobs on the go
w] https://careers.global For Graduates And Highly Skilled Professionals
x] https://www.nestle.com jobs for all
y] https://careers.un.org women candidates are strongly encouraged
z] https://www.globaljobs.org Jobs for Global Professionals
i} https://jobs.trovit.ca Find Full and Part Time Jobs, Employment and Career Search
Those seeking a work visa or skilled labour visa to work and live in Canada must have adequate education and experience to qualify. You can contact the nearest Canadian consular office or visit their website to make further enquiries about the Canadian Visa program.
Top Job Websites to Secure a Job in Canada
It's no news that Canada is welcoming immigrants, skilled workers in particular to the nation. The task of getting an occupation in Canada from abroad can be overwhelming. Initially, you need to decide if the employer has a positive labor market impact assessment (LMIA) and afterward just would you be able to apply for a work permit. You may have to adjust your resume and plunge deep into the work market needs of Canada to find where your talents are needed.
However, no need to be worried! We've not just listed the lead 5 sites to get work in Canada, however, we've arranged an elite list of master tips on getting your fantasy job below!
Canadian Top 5 Job Sites
1. Canadian Job Bank
Category: It is Canada's official government occupation site
Specific Attribute: Job Match, free to utilize
The Canadian Job Bank is perhaps the best site to get a new line of work in Canada, particularly if you are an Express Entry candidate. Employers in Canada who want to assist an international worker's permanent residency application are urged to enlist foreign specialists through the Job Bank. The Job Match work interface connects qualified employers with Express Entry applicants. Applicants in the pool with a substantial employment offer can acquire 50 or 200 points dependent on the type of work.
2. Indeed Canada
Category: Global job-related search engine
Specific Attribute: Job aggregator and free to utilize
Indeed is the most popular site to find a job in the world. The site draws in a great number of employers in Canada yet more significantly, Indeed is an occupation aggregator, this implies it pulls occupations from career websites and grouped listings and showcases them on its own site. So possibilities are, if there is a job accessible in Canada, it will be posted on Indeed!
Both international workers and newcomers to Canada use Indeed for their job chasing to never miss out on opportunities. Top Canadian employers inside different enterprises, for example, medical care, transportation, and warehousing post steadily job listings on Indeed.
3. Monster Canada
Category: Canadian job platform
Specific Attribute: Video work advertisements, job fit scoring framework, free resume appraisal, and free to utilize
Monster Canada is one of the advanced developed job platform utilized all through Canada. The platform comes totally with an employment fit scoring system that shows which occupations are generally applicable to your skills and interest. You can likewise get a free resume assessment by an expert for tips on the most proficient method to make your resume more alluring to potential employers. How perfect?! What's more, a few jobs are posted with a video to show you as opposed to disclose to you more about the job before you swipe the option to apply.
4. Workopolis
Category: Canadian employment stage
Specific Attribute: Offer employment services in French and English and is free to utilize
Workopolis is one of the most established and most notable Canadian job sites. The job site has an international worker search area that shows jobs focused on workers outside of Canada. Here you can secure jobs for live-in caregivers, farmworkers, clerks, and a lot of other sought-after jobs all through Canada. The occupation listings will demonstrate whether the employers have LMIA-documents to recruit international workers which eliminate all unpredictability from the job chasing process.
5. eJobbo
Category: Canadian occupation stage
Specific Attribute: Video occupation application, smart pairing system, associated with a visa office, and free to utilize.
eJobbo is another Canadian job platform with a developing information base of employers and enrollment specialists. The platform has a couple of interesting features, for example, a brilliant pairing system that works smartly to just show occupations that are generally compatible with your skills, experience, training, and other significant criteria. Another extraordinary component, particularly for international workers, is the video job application that empowers you to 'sell yourself' on record.
eJobbo is likewise associated with the Canadian Visa immigration and visa organization. That implies that if you apply with Canadian Visa for your work permit or permanent residency visa, you'll naturally get a user-profile for eJobbo to begin your job pursuit while your visa application is being processed. If you want to work from home, you can also find easy work from home jobs here to help you earn more money.
Some Canada Companies That Hire Foreign Workers.
Some other Canada companies hiring foreign workers now includes and not limited to the following companies;
Ecobee
Shopify
Cansel
Data Communications Management
Public Outreach
Elastic Path
Ablid Software
Sensibill
Lighthouse Labs
Dealer-FX
PrintFleet
Entertainment One
Sandbox
Slack
Jonah Group
Symbility Intersect
You can find a whole lot of other companies in Canada looking for foreign workers like you to hire in the Jobs section of our website. We always update our site with the latest job offers in Canada, you can find lots of Canadian companies willing to hire you to come to Canada and work for them.
All you need to do to get hired by a Canadian company is simply to apply for the available positions if you are qualified for the advertised positions, you will be interviewed and if you pass the interview, you will be employed. So what are you waiting for? Get started with your job application to the several Canadian companies we have published on our website, willing to employ you now.
You can get a sneak peek into these offices, scan through job opportunities that suit your qualifications and the location of the companies. You would be amazed how perfectly and easily you can find the job that you have always dreamed about.
Disclaimer: We never ask for any payment, do not pay for any recruitment. It is free of cost service, FLA is an independent website all trademarks/logos mentioned on this page are the properties of their respective owners.